The Show Must Go On Zoom: Chemistry's annual Karaoke Holiday Party went virtual for 2020
Thanks to student and staff coordination, not even a global pandemic could stop the Department of Chemistry's annual karaoke-infused holiday extravaganza.
One might assume that, since the majority of the Department of Chemistry community found themselves working from home in December 2020, the esteemed, annual karaoke holiday extravaganza would have to take a year off. They would be wrong.
Graduate students Diomedes Dieppa-Matos, Charlotte Farquhar, Alison Biester, Mike Payne, Edward Badding, Amanda Cowfer, Francesca Vaccaro, Levi Knippel, Maria Castellanos Morales, Gisele Andree, and Suppachai Srisantitham, and staff members Shannon Wagner, Eric Vandenberghe, Mitch Moise, Danielle Doughty, and Michele Harris banded together to make the seemingly impossible – a karaoke dinner party on zoom – possible. Thanks to their efforts, a virtual event, co-hosted by the Department of Chemistry, Chemistry Alliance for Diversity and Inclusion (CADI), and Chemistry Graduate Student Committee (CGSC), and sponsored by Women+ In Chemistry (WIC+), and ChemREFS, began to take place.
Over 80 members of the department congregated via Zoom on the evening of Thursday, December 16, 2020, not knowing what to expect, as this event had, of course, never been held in this way (and hopefully never will, again.) The evening's festivities kicked off with Holiday Spotlights – recipes, photos, and personal and cultural stories that included graduate student Kelly Chan's beautiful, beloved, elderly chicken named Swan, graduate student Madeleine Sutherland's recipe for pumpkin chocolate chip bread, and graduate student Alison Biester's reaction scheme for how to make Christmas Morning Thumbprint cookies.
The newer tradition of the Ugly Sweater Contest was carried on virtually, and also featured a Best Zoom Background category.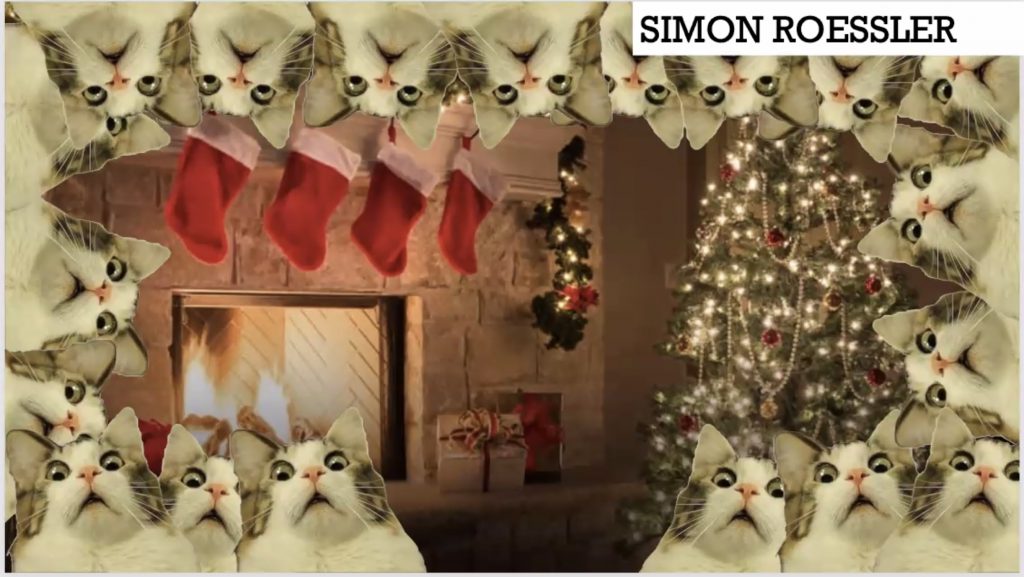 Charlotte Farquhar and her roommates took home the Ugly Sweater Contest prize with their festive pajama uniform, and the Zoom Background Contest was won by Postdoctoral researcher Simon Roessler.
All who RSVP-ed to attend were entered to win a Door Prize Raffle, and Maria Castellanos, Watcharaphol Paritmongkol, Sarah Jane Mear, Henry Tran, Sarah Antilla, Rachael Fuller, and Dina Sharo were named the lucky winners.
Administrative Assistant Mitch Moise hosted a rousing round of trivia. Though many participated, Junyu Yang, Kelly Chen, Garrett Hegel, Vinicius Armelin, and Marina Monsivais emerged as the department's trivia victors and official fonts of knowledge.
Last but certainly not least, the karaoke numbers brought down the house in true Department of Chemistry fashion. Department Head Troy Van Voorhis lead the charge with a magnificent and timely cover of "Umbrella" by Rhianna, and a wonderful evening was had by all, together, yet apart.
It was truly touching to see so many members of the department join an evening Zoom party after a long day of work-related Zooms, yet another example of our community banding together to demonstrate unity, resilience, adaptiveness, and an impressive ability to find light moments under challenging circumstances.