Shannon is the Senior Administrative Assistant to Department Head Troy Van Voorhis.
Who are you quarantined with?
My husband, 8-month-old baby, and 2 cats who ignore me to varying degrees.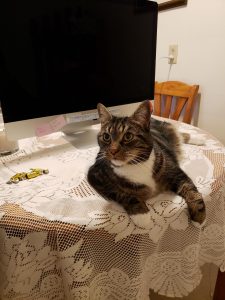 How have your days changed since physical/social distancing became the new normal?
I no longer have any alone time. Also working from home with a baby makes it feel like I'm working 2 full-time jobs simultaneously. I feel like I haven't had a day off in 5 weeks. Periodically I have to physically restrain my 16 lb. cat from sending Slack messages to my coworkers. My baby occasionally sits in on Zoom meetings and has a lot of opinions about department operations.
What do you miss most about the MIT Campus?
The architecture and the view of Boston across the river.
What are you most looking forward to about the return to the "regularly scheduled program"?
Going to all the bakeries.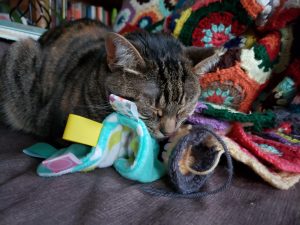 What are some aspects of this moment in time that you are grateful for?
I'm grateful that my husband and I both have stable jobs that we can easily do from home. We have a good housing situation, and being a natural-born homebody has made hunkering down easy to deal with. I'm grateful that my son is young enough to be entertained by wrapping paper and saucepans. I'm grateful for all the cats that make appearances on Zoom meetings.
What are some new or preexisting activities/hobbies/research ventures that you've taken on while being in quarantine?
I don't have a ton of time to do things for myself or things I enjoy (lol motherhood), but I've managed to dust off my bread baking skills and am making a concerted effort to finish crocheting a queen size quilt I started a couple years ago. (To those wondering why everyone is baking bread all of a sudden, kneading dough is a great stress reliever and it's easy to whip up a nice bread for dinner when you can't just run out to the store anymore. It's a good way to feel like you've accomplished something on days when the concepts of "time" and "accomplishment" are amorphous and hard to grasp. Plus bread baking is very science-y, so it makes non-scientists like me feel pretty good about ourselves.)
How have you been maintaining social connections while practicing social distancing?
I'm surprisingly more social now than before the lockdowns, which I have mixed feelings about. We have a rotation of G-chats with friends where we catch up or play virtual games together on Jackbox. My coworkers started a weekly "happy hour" on Zoom where we get to catch up with each other on a personal level.
What will you remember most about daily life during this global pandemic?
It's hard to predict while in the thick of it, but I think I'll remember feeling exhausted, frustrated, and at times angry and worried, but I'll also remember positive things like mask making efforts and how the MIT community pulled together in different ways to help the efforts to fight COVID, from donating and manufacturing PPE to researching ways to block the virus. And I hope I'll remember the little ways we tried to take care of each other.