Michele is the Human Resources Administrator for the Department of Chemistry
Who are you quarantined with?

I am quarantined with my husband Matt, who is teaching classes from home.
How have your days changed since physical/social distancing became the new normal?
I try harder to keep my apartment neat, since I spend so much time here.  I spend a lot more time looking at my indoor garden.  I am a relentless planner who's had to relentlessly unplan so many things.  I've used more Lysol in three weeks than I have in my whole life.
What do you miss most about the MIT Campus?
What are you most looking forward to about the return to the "regularly scheduled program"?
Spending time with friends and family in person, and being able to travel again.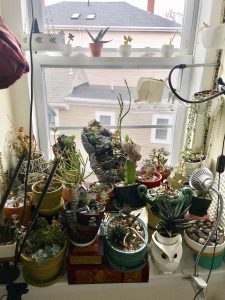 What are some aspects of this moment in time that you are grateful for?
I am grateful to have a job at MIT where I can work remotely.  I'm grateful for our team in handling this transition to working at home so successfully. 
What are some new or preexisting activities/hobbies/research ventures that you've taken on while being in quarantine?
I've been spending a lot more time cooking than I usually do!  Beyond that, I've been playing my ukulele more, reading and writing, watching good movies, and playing video games.  I also have been going on bike rides whenever I can.
How have you been maintaining social connections while practicing social distancing?
I've had a weekly gaming night with friends over Zoom, and that's been really fun!   It's given me the chance to connect with people I haven't spent time with in years.
What will you remember most about daily life during this global pandemic?
I'll remember this slow down has given me time to really think about myself and my goals as a person.
Being busy is addictive, and it's easy not to allow yourself enough room in your own head to take stock of the things 
that matter most. I'll remember that for all the fear out in the world right now, there are so many people who want to help.