Macall is the Senior Financial Officer for the Department of Chemistry.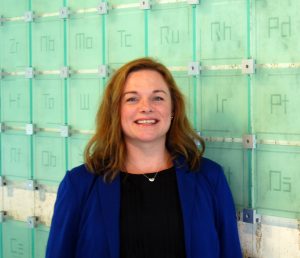 Who are you quarantined with?
My husband, 2 daughters Madeline and Matilda aged 7 and 4, and cat Pillow Pants.
How have your days changed since physical/social distancing became the new normal?
I rarely leave the house.  My husband and I have to homeschool our 2nd grader.
What do you miss most about the MIT Campus?
I miss seeing all of my colleagues and just walking around the campus.  I miss how it provides a sense of connectedness.
What are you most looking forward to about the return to the "regularly scheduled program"?
Going out to eat, hanging out with friends, shopping for non-essential items in person at Target.
What are some aspects of this moment in time that you are grateful for?
So much time with my girls that I wouldn't have normally had.
What are some new or preexisting activities/hobbies/research ventures that you've taken on while being in quarantine?
Finding new shows to binge watch and catching up on movies.  
How have you been maintaining social connections while practicing social distancing?
I've had a few virtual hang outs with friends and co-workers.  I go for walks (while 6 feet apart) with my best friend.  
What will you remember most about daily life during this global pandemic?
Hopefully only the good times spent at home with my family.